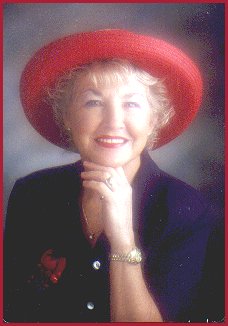 My name is Barbara Kaelin. I live in Sun City Center, FL and at the urging of my husband I entered the Ms. Senior Florida Pageant. Now, I am excited to know I have so many Red Hat friends, family, and other friends supporting me.
I was born in McMinneville, TN but I have lived in central Florida most of my life.
I have four sons, one deceased, and six grandchildren. My husband has two daughters and one grandson. We have never all been together in one place at one time.
I was in the Miss Titusville, FL beauty pageant in high school. I won first runner up but by mistake, my picture being crowned winner, was published in the Orlando Sentinel. I have never entered anything else until now.
I started writing poetry and songs about 25 years ago. The first song just came to me as I was alone one day standing at the sink doing the dishes. The pianist at church put the music to it and is still singing it in church from time to time. The music playing in the background is a favorite of mine called. "I Believe I Can Fly." (Words and music by R. Kelly) Click here for words: http://www.redsal.com/believe1.htm
The Ms. Senior Florida Pageant will be Saturday, March 29, 2003, 7:00 PM at the Kings Point Auditorium. Tickets will be $10. I hope you will be able to attend.