On Thursday, May 1, 2003 the Scarlett O'Hattas of Sun City center, FL visited the Don Cesar, a World Class Hotel in St. Pete Beach! You can visit the website to see what a magnificent place it is! It is REALLY TOO MUCH for me to try to show and explain it all. Visit their website and see for yourself! You will be glad you did!
Click on the link below or on the picture below!
http://doncesar.com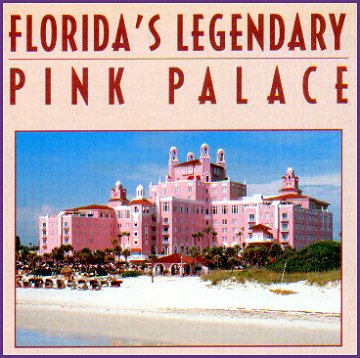 **********
We did not have a smooth start to our trip! It was rainy and only one bus arrived at the Community Hall to pick up 114 Red Hat Ladies. Maggie, our Queen, had ordered two buses. The second bus went to the Don Cesar instead! We waited patiently with BIG SMILES on our faces, as this is the Red Hat Philosophy.
**********
When the second bus arrived *AHEM* an hour late, it did not have enough room on it for all of us! BUMMER! Madeline kindly offered to drive several more Red Hatters in her van and a few skinny Red Hatters tripled up on bus seats made for two! Thank you Madeline! Thank you skinny Red Hatters for the inconvenience you suffered!
**********
We arrived at the Don Cesar late, hungry, undaunted, and ready to continue the adventure! We filled the elevators to capacity with Red Hats, Purple Outfits, Giggles and Guffaws!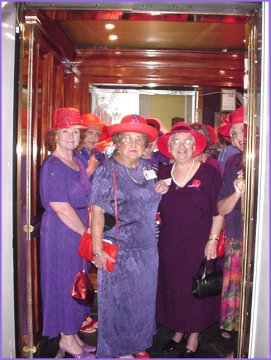 **********
We arrived on the fifth floor to be greeted with red and purple balloons and beautiful place settings. Hot tea and scrumptious, delicate goodies awaited us and we were served swiftly and graciously!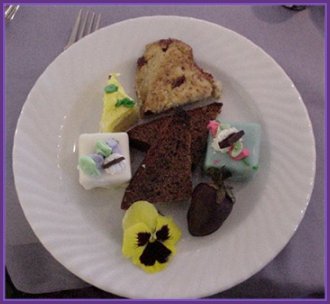 This is one of the dishes served. Unfortunately, I ate the first one before remembering to take a picture of it! OOPS!
**********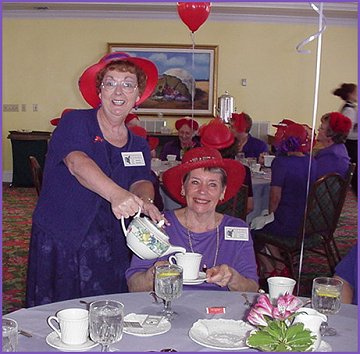 Here are Bev and Louise!
Bev is pouring! You both look lovely!
**********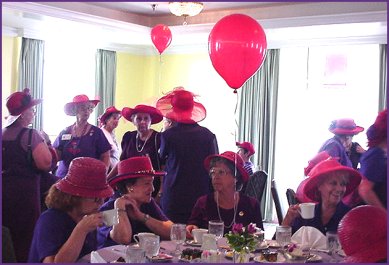 Here are some of the Scarlett O'Hattas enjoying High Tea!
**********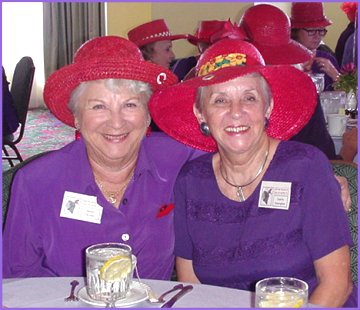 See these beautiful "Scarlett O'Hatta Smiles!"
Gladys and Juanita are lovely ladies!
**********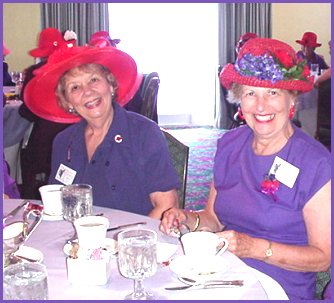 Meet Norma and Barb! These two Red Hatters have been girlfriends since High School. Now they live in Sun City Center, FL and are Scarlett O'Hattas! You look MARRRVELOUS!
**********
After tea, we had an interesting and informative tour of the facility. We learned of the history of the Don Cesar and saw the Pool area, Beach, SPA, a guest room and of course had a little time left over for shopping. The shops had many unique and beautiful items!
**********
We had a much easier time of getting home! Both buses were ready to get us home. In addition a white stretch LIMO was sent to take home the Red Hatters who "suffered" in triple seating on the ride down.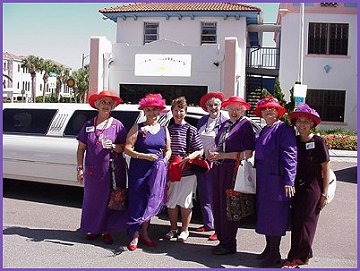 **********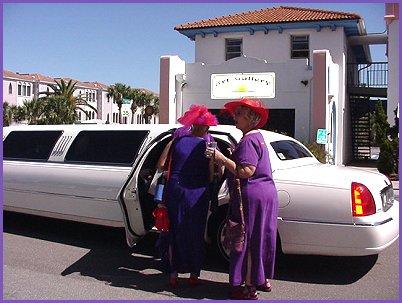 THE END!
The LIVIN' END!
**********
To see ALL of the pictures of this High Tea at the Don Cesar, click here to visit our picturetrail.com photo album and slide show!
**********

I am delighted to have so many visitors!
Please visit often for updates!


******************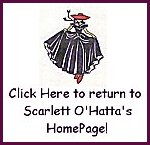 ******************