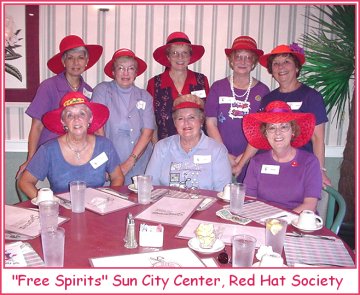 ---
---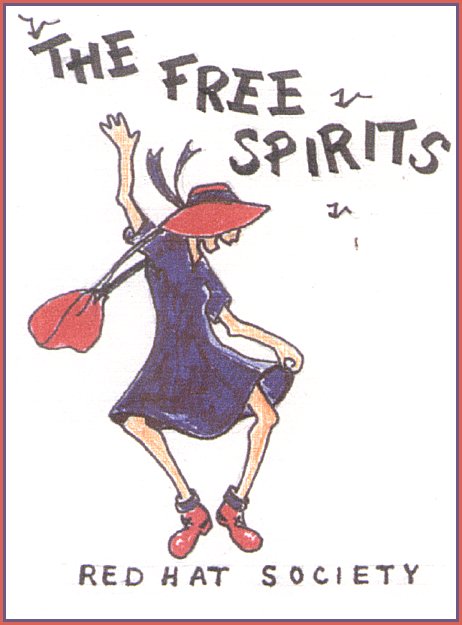 Many thanks to Alene for our own special "Free Spirits" Logo!

We are merely one little group in The Scarlett O'Hatta's Chapter of the Red Hat Society. Please click on the link below for all information on the Official RED HAT SOCIETY! Then scroll down to see pictures, news and information about "The Free Spirits" and "The Scarlett O'Hatta's."

Please click here to visit the OFFICIAL RED HAT SOCIETY Website!

The Scarlett O'Hatta's Chapter of the Red Hat Society is located in Sun City Center, Florida. We are a group of about 500 ladies of a "certain age" (We admit to 50!) who like to dress up in RED hats and PURPLE outfits! We then go out together for the primary purpose of having fun!

Our Officers Are:


Maggie Then---------Founding Queen Mother

Phyllis Lee------------Vice-Mother

Elaine Massaro-------Red Glovette (Treasurer)

Betty Landis----------Barrister (Secretary)
---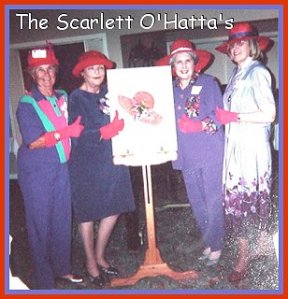 ---
You might be wondering why we wear RED Hats and PURPLE Outfits! The answer follows.....
Here is an excerpt from a poem by Jenny Joseph
entitled WARNING!
WARNING!
When I am an Old Woman, I shall wear purple,
With a red hat which doesn't go, and doesn't suit me...

Maybe I ought to practice a little now,
so people who know me are not too shocked or surprised when suddenly I am old and start to wear purple!
---
For more information on this delightful poem and the author, please click here!
http://www.wheniamanoldwoman.com/
---
>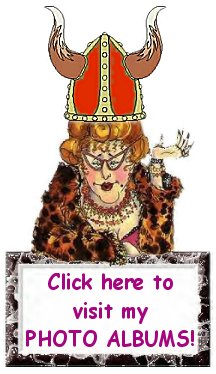 Click here to visit PHOTO ALBUMS of the
Red Hat Ladies' ADVENTURES!


Once you get to the Picture Trail Website, look to the left side and you will find a little white box that says VISIT ALBUM and asks for Member Name. Just type in redhatrosie and click Go! Then you'll see our photo albums. Click on an album and watch the first four pages turn for you. Then you can click on the small thumbnail pictures on the left to make all of the other pictures bigger. ENJOY!
---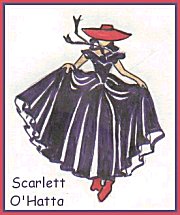 Click here to find out about all of the Red Hat COMING ATTRACTIONS
---

Many Thanks to Alene for the outstanding Scarlett O'Hatta graphics she designed just for The Scarlett O'Hatta's of Sun City Center!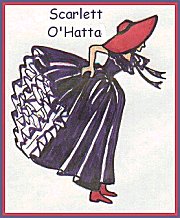 ---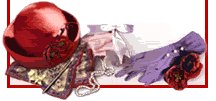 Click here to see pictures of our
High Tea at "The Cottage Tea Room."!
---

Click here to see pictures of our
Mexican Theme Luncheon at Castillo's Restaurant!
---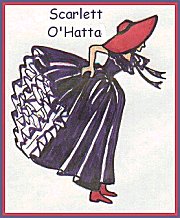 Click here to sing along with
The Scarlett O'Hatta's Theme Song!
---
Click here to learn about Sun City Center, Florida!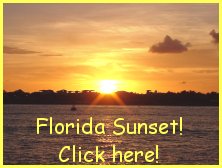 ---
If you have any questions or comments regarding this website please email: RedHatRosie@AOL.com

The founder of our "Free Spirits" group is Norma and you can email her at SunCitySue22@AOL.com

is the date for today!
---
---