Scarlett O'Hatta's Theme Song!
Turn up the volume and sing along with our theme song. You may remember this one from the Broadway Musical "George White Scandals of 1939" by Jack Yellen and Sammy Fain.
Do you wanna have some fun?
Tell ya what ya gotta do
Put on a bright red hat
And a purple dress, too!
If your daily life is flat
Put on your Red Hat
It'll give you a zing
You won't care about a thing.
When you wear your bright Red Hat
It's fun doing this or that
You will not have a care
You might even take a dare.
So now you're one of us
Don't ever have to fuss
Life greets you with a full Plattah
Because you're a SCARLETT O'HATTA!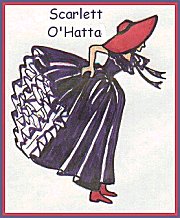 ---

We are delighted to have so many visitors!
Please visit often for updates!
---
******************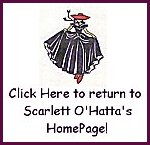 ******************